Share:
Apple Mountain Golf Club
- Experience Relaxing Golf in the North Georgia Foothills
By David Theoret
Nestled in the Blue Ridge Mountains near Clarkesville, GA you'll find Apple Mountain Golf Club, an 18-hole mountain golf course that was nominated by Golf Digest as "Best New Public Course of 2000." The course winds its way through the rolling foothills and features several elevation changes on the front nine. The back nine is a lot flatter and more wide open, with several streams and wetlands that come into play.

From the back tees, Apple Mountain plays 6,903 yards to a par of 71, with a course rating of 68.8 and at slope of 114. From back here you'll face several long forced carries off the tee and need to hit accurate approach shots into medium sized greens with subtle breaks and undulations if you want to score well. In all, there are 4 sets of tees: White (5,902/66.9/108), Gold (5,105/63.4/104) and Red (5,003/67.6/110). Choose the distance that's right for your game and you're sure to have a great time.

Apple Mountain is one of the most talked about golf course in the area, with the picturesque North Georgia Mountains serving as a backdrop. At Apple Mountain Golf Club, you'll find bent grass greens, Bermuda fairways, and lots of silver pine trees framing the fairways, helping you to create a golf adventure that is second to none! One you realize this is a course, you'll want to play over and over, ask about their Frequent Golfer Card in the pro shop. With it, for every 5 rounds you play, your 6th round is free. It's a great deal if you live in the area or visit frequently.

There are several memorable holes at Apple Mountain Golf Club starting with the first, a par 5 that plays 490 yards from the back tees. It's a slight dogleg right with a narrow fairway. Find it off the tee with a good drive and you'll have a chance to go for the green in two and get your round started off on the right foot. Anything left will likely be in the trees so favor the right side. Trees start to come into play on the right about 150 yards from the green. A single bunker guards the front right side of this small, undulated green.

Although the 3rd hole is a long par 4 that plays 439 yards, it is downhill and could be a great opportunity to hit the longest drive of your life! There are no bunkers guarding the green so swing away!

Number 6 is a long par 3 with perhaps the most daunting tee shot on the course. It's 185 yards from the back tees, uphill over wetlands with a deep, cavernous pot bunker in the middle. It's all carry, so just choose the right club and trust your swing.

The finishing hole on the outward 9 is a 479-yard dogleg right par 5. Play your tee shot downhill from an elevated tee box and then the rest of the hole is straight uphill. Those trying to go for the green in two will have to carry it on due to the two large bunkers in the middle of the fairway.

With back to back par 5s at 9 and 10, it's a great time to pick up a couple of shots if you can put a couple of good holes together. Number 10 is a short par 5 that plays 465 yards from the back tees; a good drive and a hybrid or fairway wood may be all you need. Again, there are no bunkers guarding the green - in fact there are only about 15 on the entire course - so swing away!

Number 11 is a long par 4 that plays over 400 yards from the back tees; the good news is that it's downhill. With woods all down the right side and the fairway sloping right to left, your best play is down the left side. The green is well protected with grass bunkers; miss it and up and down can be a tough make.

Number 13 is the first par 3 on the backside and although it plays downhill, it still plays long. The green is protected with a bunkers in the front guarding both sides. At 195 yards from the back tees, it will take a good tee shot to find the green and make par or better.

Number 17 is a beast of a par 5, playing 514 yards uphill, from the back tees; it will take three good shots to get on the green. You'll encounter pot bunkers and fairway bunkers along the way.

Apple Mountain Golf Club has partnered with one of the best resorts the Blue Ridge Mountains have to offer: Holiday Inn Club Vacations Apple Mountain Resort. Apple Mountain Resort sits at the edge of the Chattahoochee National Forest and has a variety of amenities and activities for the entire family. There's an 18-hole outdoor mini golf course, 18-hole disc golf course, horseback riding, basketball, volleyball, and tennis courts. In the Activity Center there's an arcade with video games, movie theater, grill and snack bar. Nearby you'll find opportunities for zip-lining, fly boarding, ATV tours, Moccasin Creek State Park and Toccoa Falls. Each two bedroom/two bath villas is quite spacious with plenty of room for relaxing in the living room or putting together delicious meals in the full kitchen. There's a washer/dryer included in select villas or you can use the free onsite laundry facilities. You'll also get free Wi-Fi and parking too.

Apple Mountain Golf Club offers some of the best membership programs I have come across. If you choose to avoid the weekends and just play on Monday through Friday, a membership to Apple Mountain Golf Club will only set you back $750/yr. ($700 if you're a senior). Play any time, any day and the cost is only $950, or $900 for a senior. Additional family members can be added for $350/yr. The membership fee includes your cart fee and driving range privileges. For those who feel the need to balance their work, family and leisure activities, there is a Social Golf Membership which allows you to play between the hours of 3 - 6pm, Monday through Friday, with driving range privileges and cart fees included. A Social Golf Membership runs a mere $75/month and you can bring Junior along for no charge!

Perhaps the biggest benefit of joining Apple Mountain Golf Club is that you have full access to all Brown Golf-managed clubs. Brown's portfolio of private, daily fee and resort courses includes clubs in the Carolinas, Florida, Pennsylvania, Missouri and Vermont. As a Brown Golf Club member, you'll have full access to all of their facilities. You can get more information on the Brown Golf Management National Reciprocal Program on their corporate website.

The professional staff at Apple Mountain Golf Club is committed to making the game of golf fun for players of all levels. They offer lessons for both beginners and accomplished golfers alike. Apple Mountain's fully stocked pro shop is the home for all of your golfing needs, everything from clubs and accessories to logoed golf apparel.

The course at Apple Mountain Golf Club isn't going to beat you up; it was designed to allow golfers to enjoy the game, not rush through and thoroughly frustrate them. One thing you'll learn about mountain golf is that the scorecard may say it's a 490-yard par 5, but odds are that it could play considerably more or less! Typically, the short holes play longer and the longer holes play shorter. At Apple Mountain, there is a good variety of both, so bring your best game! For more information on Apple Mountain Golf Club or to book a tee time or stay and play package give them a call at (706) 754-2255 or visit them online: www.applemountaingolfga.com.

Article Tags: Apple Mountain Golf Club, Golf in Clarkesville Georgia, Golf in Georgia, North Georgia Mountains, Holiday Inn Club Vacations, Georgia Golf, Golf in the Blue Ridge Mountains
Revised: 02/29/2020 - Article Viewed 2,158 Times
About: David Theoret
---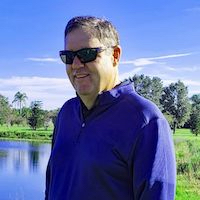 David Theoret has been in the golf and golf travel industry for over 10 years, primarily selling online advertising. For the past seven years, he has also been a golf writer, reviewing golf courses, resorts, destinations, equipment, golf apparel, and training aids - the latter of which never seems to help. David's articles and reviews have been posted on many golf travel and equipment websites.

Growing up in Southwestern Ontario, Canada, it was naturally assumed he would play hockey. Beginning at the age of 3 and continuing into his late 30's, he did just that. However, after one too many pucks to the head, he realized that golf was a lot easier on the body (whoever said hockey players were slow) and took the game up.

After moving to Florida and accepting a position with TravelGolf Media (now part of GolfNow) his love for the game grew exponentially. Most Saturdays you will find him on a course somewhere in Florida or on the practice range reinforcing his bad habits. David plays to a 10 handicap - unless there is money involved in which case it goes considerably higher. He currently resides in Lakeland, FL with his wife Belinda and their two "kids", Madyson and Molly.

---
More Articles by David Theoret