Share:
Chateau Elan
A Golf Resort and Winery That Has It All!
By David Theoret
Attention golf and wine aficionados: There's a resort about 40 miles northeast of Atlanta, GA that is a full production winery with 45 holes of resort-style golf. With 3,500 acres of wine and golf, it's sure to keep enthusiasts of both busy.
Chateau Elan is a both a luxurious golf resort and winery - the first winery of its kind in the region since Prohibition - a tennis center, equestrian show center, conference center, European-style health spa and residential community.

Chateau Elan was founded by Don and Nancy Panoz. The couple met while Don was attending Greenbrier Military Academy. After his tour of duty ended, Don studied business at Duquesne University and operated two drug stores in Pittsburgh while Nancy stayed home and attended to the couple's 5 children. Eventually Don formed Mylan Laboratories, which became an innovative leader in the field of pharmaceutical delivery.

In 1969, the Panoz family packed up and moved to Ireland and created the Elan Corporation, which holds more than 100 world-wide patents including the nicotine patch. During visits to the Elan research lab in Gainesville, GA, the couple gained an affection for Muscadine wine, made from the indigenous Muscadine grapes. It seemed only natural that their next endeavor would be to delve into the world of fine wines! By instilling the same discipline and standards that made them highly successful in the pharmaceutical industry, Chateau Elan and its award-winning vineyards have become the envy of many within the winery world.

In addition to an award winning winery - with hundreds of national and international awards to its credit - it's also home to 45 holes of golf. You'll experience everything Georgia golf has to offer, serene valley lakes and rolling Georgia hills. The Woodlands is one of two championship 18-hole layouts and is considered by many to be the most challenging and scenic of the two. As you play your way around The Woodlands, you'll be treated to stunning views of the north Georgia foothills. The course plays around several sparkling lakes and towering trees line the fairways of a few holes. There are plenty of elevation changes so be ready for a few blind shots and the rolling terrain makes for some interesting lies. From the back tees, Woodlands plays 6,725 yards, with a course rating of 73.1 and a slope of 135. At 6,355 yards (71.1/132), the Green tees provide most men all the golf they can handle while the ladies will find the Burgundy tees (4,850/69.2/129) a good test of their abilities. Four sets of tees make the Woodlands course enjoyable for golfers of all abilities.

One of the most memorable holes on the course is Number 8, a par 5 that plays 508 yards from the Green tees. Unless you're a monster off the tee, it's a three-shot hole, predominantly because of the large lake that fronts the green. The preferred shot off the tee on this dogleg right is down the right side of the fairway and is really your only hope at getting on in two. It also opens up your shot to the fairway on the other side of the lake. Most players will choose to layup in front of the lake, which still leaves a minimum of 150 yards, slightly downhill to the green. If you're coming in from the left side as many will do, beware of the two large bunkers front left. Amazingly, this hole is handicapped 5th hardest.

The Chateau Course wanders across 170 acres, winding around a lake and two creeks. Thick Bermuda rough borders the fairways and creates the contours that can been seen from the tee. The design is more open than the Woodlands Course and not surprisingly, water comes into play on several holes. Eighty seven bunkers have been strategically placed throughout the layout and can hamper what you thought was a great shot. Chateau plays 7,030 yards from the back tees with a course rating of 74 and a slope of 137. Those wanting slightly less of a challenge will move up to the White tees (5,900/69.2/124). Ladies will find the course enjoyable from the Burgundy tees (5,132/70/120). With four sets of tees, everyone can find a suitable yardage.

No single hole on the Chateau Course showcases the beauty and challenge of the golf course better than the 14th, a narrow dogleg right with tree-lined fairways. Adding to the aesthetics is the waterfall on the pond, short right of the green. The hole plays 400 yards from the white tees and slightly uphill, so it takes two well struck shots to get on in regulation. The lone single bunker back right sees a lot of action from golfers avoiding the water hazard.

There's also a par-3 course on property. Holes range in length from 73 - 153 yards for men, with water hazards and sand traps in play on several holes. The greens are small, so accuracy is at a premium. The 9th hole is the longest and plays almost totally over water with a sand trap in the front left. The course can be walked in less than two hours and is open to the public.

Chateau Elan also boasts some pretty impressive practice facilities that are open to the public. Their full-length driving range is open during daylight hours. There are plenty of targets to dial in your distances and the Wee Links Practice Facility has a multi-tiered pitching station, practice bunkers, a Bentgrass and two TifEagle Bermuda practice greens. All you need is your own golf balls - for the Wee Links practice area that is!

Chateau Elan is known for its luxurious accommodations, whether it's a room or suite at the Inn or a golf villa on the 15th fairway of the Chateau Course. The rooms at Château Élan are larger than those at most hotels. They also offer 2- and 3-bedroom villas, perfect for golfers. The golf villas are located on the 15th fairway of the Chateau Course, with various sleeping configurations. Villas are available on a nightly basis, or as part of the Girls Just Want to Have Wine Villa Package and Villa Golf Packages. The golf packages include overnight accommodations, unlimited golf on the Chateau, Woodlands, and Par 3 courses, golf carts and unlimited access to the driving range. Check with Chateau Elan for pricing as it varies by season.

Besides award-winning golf courses, Chateau Elan boasts a variety of health and fitness facilities, including a seasonal outdoor pool and a fitness room with free weight dumbbells, treadmills, elliptical trainers and stair masters. The Chateau Elan Racquet Club offers the best tennis programs in Braselton, Georgia. They have three lighted hard courts, 2 lighted clay courts and 4 lighted pickleball courts. Bring a playing partner or have the club match you up with someone of the same caliber.  

Dining is a special treat at Chateau Elan, with 6 dining venues offering a variety of cuisines with award-winning dishes and ingredients. From regional Southern and All-American to Mediterranean, Irish, and healthful Spa Cuisine and settings from casual to intimate fine dining, Chateau Elan has something for everyone.

Should you find yourself by the pool soaking up some rays at the main resort pool, be sure to stop by Le Soleil Pool Bar. They offer a light selection of refreshing sandwiches, salads, and snacks in addition to your favorite poolside cocktail. You'll find live music and drink specials every weekend during the summer.

The Spa at Chateau Elan is a peaceful sanctuary and the perfect escape, whether you're staying at Chateau Elan overnight or as a day guest. Inside, the talented staff of massage therapists is ready to engage you in multi-sensory treatments to refresh and rejuvenate your body, mind, and soul. Whether it's a quiet day of luxurious pampering, a romantic getaway with that special person or an afternoon with friends, Chateau Elan's world-class spa is an experience you won't soon forget.

Château Élan is the only certified Conference Center in America that has a full-production, working winery and vineyards. There are 30 meeting rooms, four ballrooms, 12 conference rooms, one boardroom, and a tiered auditorium with stage and fixed seating within the 40,000 sq. ft. conference center. In addition, there are numerous outdoor settings, including a 16th-century-style French Château that provide creative backgrounds for meetings, banquets and receptions.
Chateau Elan is a resort that has it all! For more information or to book your next visit, check out their website at www.chateauelan.com.

Revised: 08/22/2019 - Article Viewed 2,371 Times - View Golf Course Profile
About: David Theoret
---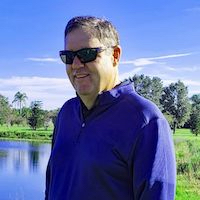 David Theoret has been in the golf and golf travel industry for over 10 years, primarily selling online advertising. For the past seven years, he has also been a golf writer, reviewing golf courses, resorts, destinations, equipment, golf apparel, and training aids - the latter of which never seems to help. David's articles and reviews have been posted on many golf travel and equipment websites.

Growing up in Southwestern Ontario, Canada, it was naturally assumed he would play hockey. Beginning at the age of 3 and continuing into his late 30's, he did just that. However, after one too many pucks to the head, he realized that golf was a lot easier on the body (whoever said hockey players were slow) and took the game up.

After moving to Florida and accepting a position with TravelGolf Media (now part of GolfNow) his love for the game grew exponentially. Most Saturdays you will find him on a course somewhere in Florida or on the practice range reinforcing his bad habits. David plays to a 10 handicap - unless there is money involved in which case it goes considerably higher. He currently resides in Lakeland, FL with his wife Belinda and their two "kids", Madyson and Molly.

---
More Articles by David Theoret